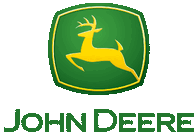 Deere & Company, usually known by its brand name John Deere, is an American corporation based in Moline, Illinois, and the leading manufacturer of agricultural machinery in the world. In 2008, it was listed as 102nd in the Fortune 500 ranking. Deere and Company agricultural products, usually sold under the John Deere name, include tractors, combine harvesters, balers, planters/seeders, ATVs and forestry equipment. The company is also a leading supplier of construction equipment, as well as equipment used in lawn, grounds and turf care, such as ride-on lawn mowers, string trimmers, chainsaws, snowthrowers and for a short period, snowmobiles.
The company's slogan is "Nothing runs like a Deere" and has a picture of a deer as a logo, a word play pun on "nothing runs like a deer."
Additionally, John Deere manufactures engines used in heavy equipment and provides financial services and other related activities that support the core businesses.
The company was founded in 1837 by John Deere, who developed and manufactured the first commercially successful cast-steel plow.
George Vinton, and John Deere, who would serve as president of the company until 1886. Despite this, it was Charles who effectively ran the company. In 1869, Charles began to introduce marketing centers and independent retail dealers to advance the company's sales nationwide.
John Deere died in 1886, and the presidency of Deere & Company passed to Charles Deere. By now the company was manufacturing a variety of farm equipment products in addition to plows, including wagons, corn planters, cultivators. The company even expanded into the bicycle business briefly during the 1890s, but the core focus of the company remained on agricultural implements. Increased competition during the early 1900s from the new International Harvester Company led the company to expand its offerings in the implement business, but it was the production of gasoline tractors which would come to define Deere & Company's operations during the twentieth century.
In 1912, Deere & Company president William Butterworth, who had replaced Charles Deere after his death in 1907, began the company's expansion into the tractor business. Deere & Company briefly experimented with its own tractor models, the most successful of which was the Dain All-Wheel-Drive, but in the end decided to continue its foray into the tractor business by purchasing the Waterloo Gasoline Engine Company in 1918, which manufactured the popular Waterloo Boy tractor at its facilities in Waterloo, Iowa. Deere & Company continued to sell tractors under the Waterloo Boy name until 1923, when the John Deere Model D was introduced. The company still manufactures most of its tractors in Waterloo, Iowa.
According to John Ratzenberger, host of the Travel Channel series "Made in America", Deere & Company never repossessed any equipment from American farmers during the Great Depression. This was revealed during the shows profile of Deere & Company.
In 1956, Deere & Company bought-out the German tractor manufacturer, Heinrich Lanz AG.